BKS was given opportunities by the following partial list of clients to provide skilled professionals. They had needs for specific consultants, with specific skills and specific qualities. We met the challenge and are exceeding expectations.
Our clients call us First for their needs, and consider us the "go to" vendor.
Staff Augmentation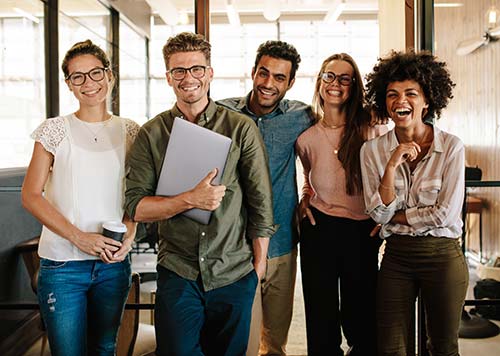 Business Knowledge Services employs dedicated professionals and partners that provide superior services from Project Management and Business Analysis to the Unique Resources required for short and long term Staff Augmentation.
"We like working with BKS because you are honest and treat us right".
Our consultants possess expertise in various computer skills such as: SQL Server, Visual Basic, .NET, C#, Oracle, SAP, JAVA, Angular, and UNIX/Linux, as well as the hard to find skills such as: OBIEE, Ab Initio, Perl, Chef, Informatica, Python, Azure, AWS, Google, and Epic.
BKS professionals work as individuals, leaders, or as team members of cross-functional groups in the complete life cycle of the development, including project management. They also provide training to users and work with other technical groups to co-ordinate environment changes and cross-application testing.
Why Staff Augmentation
Efficient use of resources to free-up subject matter experts for strategic initiatives
Reduction in application development costs
Continuous improvement in quality and time-to-market
Tighter control of IT maintenance and support operations
Significant cost reduction in training and lost time
Customers can obtain a business edge by using BKS consultants. While your staff applies leading-edge technologies, we can manage the legacy work; or our technology/business experts can adapt the new and unique technologies to your business processes, and train your staff on how to use them proficiently.
EMC Corporation is the world leader in networked information storage, information management software and the provider of the most robust, secure, and trusted information storage infrastructure in the world.
BKS has been providing top quality Oracle developers and consultants to EMC since our inception. We work directly with upper management in IT, Manufacturing, and Finance to assist them with mission critical needs. We also provide "surge" and "backfill" consultants with specific qualities, allowing internal staff to complete time sensitive duties, without being bogged down with training consultants. Currently, our consultants are spread throughout the United States, on a variety of projects that have deadlines and budget constraints. Together we will meet the deadlines and come in under budget.
Since 1846, HP Hood has been New England's leading dairy processor and has also become a national company distributing dairy products throughout the United States.
Since our inception, BKS has worked with Hood on multiple projects and staffing needs. Like most companies today, they are in the process of upgrading and enhancing their desktops, servers, and overall network. They asked BKS to provide a Senior Project Manager and several Network Administrators to facilitate the process. Hood did not want to disturb internal users or disrupt business in the slightest way. Therefore, by allowing BKS to manage the overall process, Hood's internal staff was able to seamlessly manage daily activities, current project work, and maintain business.
Direct Hire
Posting an opening only produces a small number of candidates, and the majority of them don't meet your minimum requirements.
BKS understands finding talented employees is a labor-intensive process. You are busy with everyday business responsibilities and can't devote your time and expertise to a full time search. That's where BKS comes in.
Our staff is intelligent, professional, and has an exceptional understanding of the industries we specialize in. By working closely with you, we learn about your company and what differentiates you in a highly competitive marketplace. We provide you with carefully screened job candidates that have the proper qualifications by matching professionals to your specific staffing needs. BKS takes the time to interview every candidate to ensure a proper fit.
Without the best and most qualified people working for you, your business can't perform at its best.
Custom Application Development
BKS understands that companies are constantly changing, and so are your business needs. We create custom software applications to address your most complex business issues. When off-the-shelf products are either insufficient or do not yet exist, our consulting services can provide the perfect solution. These unique applications benefit our clients by:
Providing applications that meet the specific needs of the business, not just the industry standard
Providing applications that are practical and flexible
Making data available via the internet/intranet to any location
Providing solutions when off-the-shelf applications won't suffice
Creating and automating lengthy and repetitive tasks such as: copying/pasting, importing/exporting data from one platform to another
Modifying and enhancing cumbersome reports which are inflexible or not specific to internal/external customer needs
By creating programs to automate repetitious and cumbersome tasks, our clients benefit through the following ways:
Fewer hours spent on mundane assignments
Internal staff free to solve other complex business problems
Engineers free to analyze data rather than running batches of reports
We customize the application to meet your business needs, rather than force the business to work under the constraints of the application. To date, our applications have been created to work in distribution, non profit, healthcare, and manufacturing.